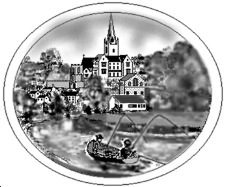 Ross-On-Wye Angling Club
Conditions of Using the Water and General Fishing Rules
All anglers fishing our waters must adhere to the following rules and guidelines.
All Club members use the Club waters, facilities and equipment at their own risk.
The coarse fishing season runs from 16 June until 14 March inclusive. Fishing outside these dates is prohibited.
All gates are to be closed, do not damage fences or crop
No litter of any description to be left, including any discarded line.
No dogs, with the exception of those owned by the Bailiff , allowed on any waters
No fires to be made on the banks of the river or in the fields adjoining the Club water
No night fishing is permitted (Night fishing is one hour after sunset until one hour before sunrise). For the avoidance of doubt, sunrise and sunset means the sunrise and sunset times published for Ross-on-Wye on the Met. Office website each day. Members must cease fishing no later than one hour after sunset and must then immediately leave the fishery and car parking areas.
Boat fishing is prohibited with the exception of accredited Salmon anglers at Weirend.
Coarse Anglers are allowed to fish the pegs at Weirend marked with white posts during the coarse fishing season, however during the salmon season a coarse angler must give way if a salmon member wants to fish through the white post peg.
Do not leave baited rods unattended or unsupervised whether the bait is in the water or not.
Anglers must fish only one peg at any one time.
Members when fishing must always carry both parts of their membership cards ( i.e. Photo ID and Membership card ) and their Environment Agency Licence. These must be available for inspection upon request. The holder of a membership card has the right to challenge any person fishing on Club waters
No fish to be removed from club waters with the exception of bleak or minnows for use as live bait in Ross AC waters.
Dead-baiting allowed with SEA FISH ONLY.
Keep nets can be used with the exception of Barbel, Carp, Pike or Grayling. The Bailiff has the right to inspect the contents of any keep net used.
No spinning by coarse fishermen on the Weirend stretch in the salmon season (3rd March – 17th October.)
Any member conducting themselves in any way detrimental to the interests and principles of the Club shall be liable to expulsion.
Further conditions of use and access to reciprocal waters must also be observed.
Members are to ensure that the welfare of any fish caught is paramount. Appropriate landing and unhooking care must be observed. This includes the use of unhooking mats where appropriate, not keeping the fish out of the water unnecessarily and ensuring the fish has had chance to recover in the landing net before release.
Ross on Wye Angling Club reserves the right to close its waters to fishing when it deems the river conditions to be unsuitable. (e.g. Sustained high temperatures, very low water conditions, pollution issues).
Members should access the river only by the routes shown on the maps.
Whilst using treble hooks, at least two of the three hooks must be barbless.
Ross on Wye Angling Club encourages the use of barbless hooks where appropriate / suitable (e.g. hair rigged baits). This is in line with Environment Agency guidelines for 'best practices' with regard to fish care.
Members under the age of 16 must be accompanied by an adult when fishing Ross on Wye Angling Club waters. Note that non-members are not allowed to access non-public areas. For example this precludes a Junior Member from fishing Benhall the supervising adult is also a Member of Ross on Wye AC.
Members contributing to any form of media must not disclose the specific location/swim by name or photograph. Ensure the background cannot be identified to a specific location. Should any member see a swan in distress call Swan Aid on 07763 424892. These rules were last updated September 2020.